So I was a little hungry and decided to look at typography that's literally…. edible. AT first I found a lot of interesting and really cool typographic pieces that were made of things like sugar, salt, flour etc. Like this:
This piece

is absolutely beautiful to me, it is an actual postcard from the artist, in which he first sketched the type and then vectored it and cut out vinyl. He says "and really enjoyed the process of sketching and vectorising the type, then cutting it out of vinyl and masking the flour on the cutting board."
This is another example of type that's made of up dusted flour. This piece actual comes from a book called "Type Delight" which is a recipe book with hand done typography made out of food. The book was made by Nina Harcus who is a photographer and typographer herself.
I also found a whole blog dedicated to typography made of food (which is fairly new, but has alot of great posts on it). Some of the work is just absolutely beautiful.
(This piece was made of roasted barley and hops. The typographers who created this piece were invited by Landor to help in a branding project for the 2014 AAF CincinAddys.)
(made of crumbled short bread)
November was made of mashed potatoes, October of cinnamon, and Type a holic out of dark chocolate.

These next images were made by Anna Garforth, who made these out of cookies. She is a London based artist who works alot with everyday materials to design and create images; these are designs she made by baking.
I love culinary art and especially when it involves cake. These are some cakes with a typographic approach different than the average store bought cake with "happy birthday" written in frosting...
Looks like these letter were cut from fondant and placed on the cake.
I really loved this little cake because of the type on the hearts. I was wondering how exactly they would make this and it can be found HERE .
But briefly, she basically rolled out fondant , and with a stamp , she stamped the text on and the cut the hearts out.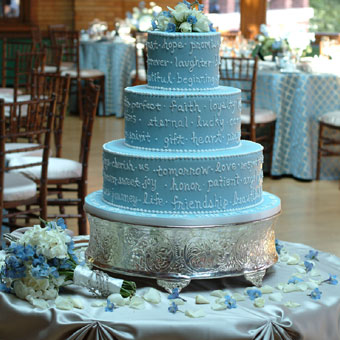 Some interesting typographic wedding cakes.
This cake has letter with in created with fondant letters places inside the cake batter and then baked.
Which can be found Here
I really loved to see how typography can literally be every where we look and its not always what we are used to seeing.